for those of you who don't know who he is, he was on The Munsters and Step by Step, played max from the two goofy movies, tino from the weekenders, chester from the fairly odd parents, kovu from the lion king 2, haku from spirited away, and many more voice works.

source: youtube

I just imaged max saying fucking kickass. :/
A video of Jason Marsden in Universal and IOA in Orlando last year.
Current Music:

ain't no sunshine- bill withers



I have a horrible stomach ache.

well at least it was out of algebra. so I didn't have to do any work.
I'm home sick.
my parents should have video taped me more, dammit!
I miss being scared of are you afraid of the dark.
screaming when I saw the billboard for the movie version of harry potter and the sorcerer's stone.
thinking everything before the 80's was in black and white.
living in the yellow and pink houses on fernandina.
and getting free toys from mrs. diane and saying hi to zaney and zowie at ZZ Toys.
eating lunch in southside elementary.
playing on the playground of atlantic.
running towards the huge slide at emma love.
having my birthday party 3 years in a row at island falls mini golf, and wearing my white party dress.
going around the neighborhood in texas with mrs. bonnie (barney the mommy) and sarah on halloween.
and asking them to come see our christmas lights, when they lived right across the street.
I miss being little, so so much. I think just the idea of never seeing it again or experiencing it.
this picture makes me want to cry, it makes me miss being little so much!
journey beyond your imagination, awww!
now it's all serious and complicated!
"the rebellion begins"
with all their bfs and gfs and running around "snogging" everyone all the time =]
they were so cute then! and it was so simple!
let's compare:
awwsohappy and amazing! :D
angst! wars! snogging! :O
I want to watch the first movie with my biffle shelby. who was excited with me when it came out.
but unfortunately she lives in NH. and I live in FL. :[
minor drawback.
oh well.
I can just curl up tomorrow and watch it myself, if I have the time.
damn you high school.
PS. being a freshman is going to suck.
I mean, I'm practically 15 but I miss being little.




muggle studies professor is killed by voldemort
hedwig is killed by death eaters (wtf)
mad-eye moody is killed by death eaters
scrimgoure is killed by death eaters
DUDLEY SHOWS KINDNESS TOWARDS HARRY! haha
george lost an ear
ron thinks disney princesses are illnesses
lupin and tonks get married
and so do bill and fleur
tonks is pregnant
lupid and his pompus ass decide that he is too good for his kid and his wife and leaves them. D:<
ginny. harry. small room. alone. together.
many, many R/Hr moments, only 200 pages into the book
REGALUS BLACK IS RAB!
kreacher is on the good side.
harry realizes that he doesn't want ginny to get married to some random stranger in the future
SNAPE IS HEADMASTER OF HOGWARTS!
don't get mad if you highlighted and didn't see what you wanted to see. it was your choice.

harry and ginny and/or ron and hermione HAVE to get married, and have babies. haha.
HPDH SPOILERS EVERYONEEEE (highlight to read)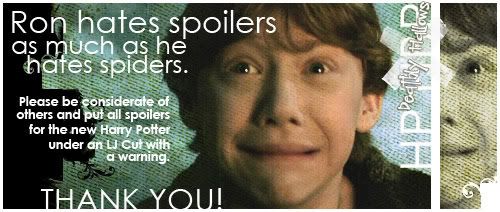 Want to use this banner?
don't want a repeat of this-
hilarious, but very mean.
COMES OUT TONIGHTTTTTTTT!!!!!!!!!!!!!!!!!!! :DDDDDDDDDDDDDDDDDDDD
Current Location:

nova scotia

Current Music:

hero/heroine- boys like girls



:DDDDDDDDDDDDD AND SQUEE X 04239576890357024389670593670470354748920365783687678


!!!!!!11111!!111 !!!1111 !!!!!!!!!!!!!!!!!1!!!!!!!!!!!!!!!!!!!!!!!!!!!!!


they better not screw this up. the one thing I'm concerned about is that the staff has to have british accents... ew


I say they can only have british people working there. because I know all of the american staff faking a british accent will be all "oy fish and chips tea and biscuits mate"



that would be awkward. lol
UNIVERSAL STUDIOS IS BUILDING A HARRY POTTER THEME PARK! IT IS CONFIRMED!
Current Mood:

chipper

Current Music:

all the same



leave comments please. :]
I'm going to see pirates again tonight. hopefully I will be able to comprehend everything this time, since I am dizzingly (sp?) confused about it. call me stupid. whatever. going shopping.